A proposed bill could essentially ban Huawei and ZTE telecommunication devices and services in the US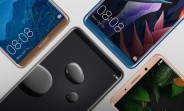 If you've been keeping up with Huawei's recent efforts to expand on the US market, you likely heard of the major deal collapse between the Chinese OEM and AT&T. In the short term, this is undoubtedly disappointing for anybody anticipating to see the new Mate 10 Pro and future Huawei devices on carrier contract deals. However, the issue and its potential implications go way beyond that.
On Thursday, when we officially heard about the cancelled deal, a few US legal concerns were cited as an explanation. As it turns out, there was an entire bill, titled H. R. 4747: "Defending U.S….