Alto's Odyssey lands on iOS on February 22 but you can pre-order now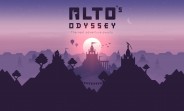 Alto's Adventure's sequel, Alto's Odyssey is finally ready and will launch on February 22 exclusively on iOS. Pre-orders are up right now and buyers will need to shell out $4.99.
Alto's Odyssey was supposed to launch in early 2017 but was delayed until the summer of 2017 before it was once again delayed. The team behind Alto's Odyssey has shared that their goal was to make it perfect.
There's still no word on when the second Alto game will make it to Android – it took the first one a couple of months after the iOS release. On a positive note for droid users, Alto's Adventure was…