Android Wear devices to get Oreo update starting today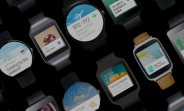 It was back in October, when an Oreo-based Android Wear beta was announced by Google. Now, over two months after that, it has been announced the Oreo update will start rolling out to Android Wear devices today onwards.
The announcement came in the form of a Google+ post by Googler Hoi Lam, who is also a moderator at Android Wear Developers community on the social network.
The post, as you can see in the screenshot, also lists some improvements the update brings along, including notification vibration strength setting, touch lock option for wet conditions, support for 7 new countries…