Billboard suggests October 4 unveiling for Google Pixel 2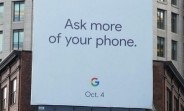 Last month, serial leakster Evan Blass revealed the next generation Google Pixel smartphones will be officially unveiled on October 5. However, if a newly-spotted Google billboard is anything to go by, the devices may arrive a day earlier.
Agreed, the billboard doesn't explicitly say anything, but the words "Ask more of your phone," followed by Google's logo and the date are strong indications that the company is talking about a new phone, details related to which will be outed on October 4.
For what it's worth, last year's Pixel event also happened on October 4. The upcoming…