DJI announces Zenmuse X7 Super 35 aerial camera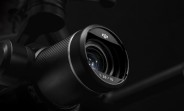 DJI has announced a new Super 35 camera system designed to work with its Inspire 2 drone. Called the Zenmuse X7, it is designed to take drone cinematography to the next level.
The Zenmuse 7 features a new Super 35mm sensor that features 14 stop of dynamic range. The camera is capable of recording 6K CinemaDNG RAW or 5.2K Apple ProRes at 30fps or 3.9K CinemaDNG RAW or 2.7K Apple ProRes at 59.94fps.
DJI has worked with Technicolor to improve its color science for the Zenmuse 7. The camera now features a new D-Log profile called DJI Cinema Color System or DCCS. This lets the camera…