Essential Phone receives September security patches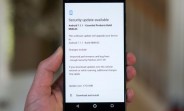 The Essential Phone is now receiving a new software update, on the eve of its release in Sprint stores across the US. While technically it isn't the first, the previous ones were only actually seen by people with review units. For all intents and purposes, this should be the first update notification that people who bought the device will come across.
Before you ask – no, it's not Oreo. Essential promised quick Android version updates, yes, but it's too soon for that. Not one non-Google supported device runs that yet.
What this update does bring is the September security fix. The…