Essential Phone will finally be available in Sprint stores starting tomorrow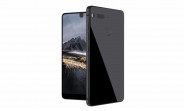 The Essential Phone finally became available online in the US and Canada a few days ago, following multiple delays. But what if you want to see it in person before you buy? What if you want to play with it for a bit and then decide if it's worth your hard earned cash?
Thankfully, Sprint has you covered. Starting on September 14 (this Thursday), the Essential Phone will be available in all of the carrier's physical stores.
To celebrate this incredible achievement, Sprint is offering 50% off the handset for a limited time. You need to go with the Sprint Flex Lease scheme, and you'll…