Face Unlock for OnePlus 3/3T officially confirmed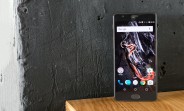 After dropping hints that the OnePlus 3/3T would get the Face Unlock feature, OnePlus has now confirmed the development. At the recently concluded CES, co-founder and global director Carl Pei said the devices will get the functionality in an upcoming beta build.
Commenting on the decision, he said, "there's no reason to withhold features we can easily implement." It's worth mentioning that the 5T was the first OnePlus device to come Face Unlock, and the feature was later made available to the OnePlus 5 as well.
Source