Galaxy Note8 in Deep Sea Blue can now be pre-ordered in Germany, ships October 26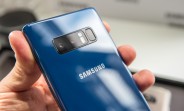 Samsung's Galaxy Note8 had four initial launch colors: Midnight Black, Maple Gold, Orchid Grey, and Deep Sea Blue. However, not all of them have been available in all countries, with most territories in fact getting only a selection of two of them.
That's slowly starting to change, it seems. Today the Deep Sea Blue version of the phablet went up for pre-order in Germany through Samsung's online store. Initially, the Note8 was only offered in Midnight Black and Maple Gold in the country.
Now if you have a spare €999 lying around you can pre-order the Deep Sea Blue iteration, which is…