Galaxy S9 'unlikely' to be showcased at CES 2018, Samsung says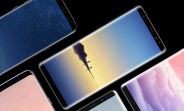 Last month, there were rumors that the next Galaxy S series smartphones will be showcased a bit earlier than usual, at the Consumer Electronics Show in January next year. However, Samsung has now made the matter clear, saying that's "unlikely" to happen.
Samsung Galaxy S8
So now it's reasonable to assume the Galaxy S9 and S9+ will either be officially unveiled in February during the Mobile World Congress (like the Galaxy S5, S6, and S7), or at a dedicated event in March, like the Galaxy S8 series.
Contrary to some reports so far, there are also rumors that the Galaxy S9 won't…