Huawei Mate 10 Pro could come bundled with a smartpen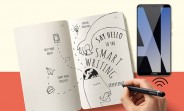 Huawei might have plans to use the Mate 10 Pro to push into Galaxy Note territory. The image below was posted by @evleaks and shows the upcoming flagship with a smartpen – not a smart stylus!
A Huawei Mate 10 Pro and a Moleskine smartpen bundle?
The design of the pen is a match for the Moleskine Smart Writing Set, hinting at a collaboration between the two companies. Using the Bluetooth-enabled pen and special writing pad, you can write on real paper and instantly have digitized copies of your notes and sketches on your smartphone.
However, this pen does not work on a touchscreen…