Instagram separates messaging feature into a new app called Direct, currently in testing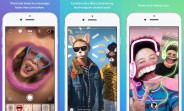 Instagram is currently testing Direct, a new messaging app that was previously a part of the main Instagram app. Basically, the company has taken the direct messaging feature of Instagram and spun it into a separate app, turning it into the Snapchat clone it always wanted.
The app is currently available today in six countries: Chile, Israel, Italy, Portugal, Turkey, and Uruguay, on both, iOS and Android. There currently is no timeline for when this app will be available everywhere, if at all.
Like Snapchat, Direct opens up in the camera view, letting you quickly snap a picture…