Jet Black iPhone 7 and 7 Plus now available with 32GB of storage starting at $549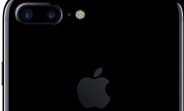 Jet Black was the most exclusive color scheme for last year's iPhone 7 and iPhone 7 Plus upon launch, since you could only get it on a device with 128 or 256GB of storage. The entry-level 32GB tier wasn't available in this shiny hue.
That changes now, however. Following its announcement of the iPhone X, iPhone 8, and iPhone 8 Plus, Apple has already discontinued the red iPhone 7 and 7 Plus, as well as 256GB models for last year's handsets.
On the flip side, you can now buy a 32GB iPhone 7 or 7 Plus in Jet Black, for the first time ever. The price isn't any different to what the company…