Lyft announces new app with built-in Google Maps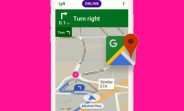 Lyft announced a new feature of the Lyft Driver app today called Lyft Navigation. Lyft Navigation is built with Google Maps and is accessed right from the Driver app.
There is no longer a need for drivers to be switching back and forth between the navigation app and the Lyft driver app between picking up new riders or taking a detour to pick up a carpooler during a Lyft Line ride.
Lyft says this is a win-win for drivers and passengers alike. Once riders hop in, they can be on the road just moments quicker since the driver doesn't have to fiddle with getting the directions…