New update to Google's Camera app brings Selfie Flash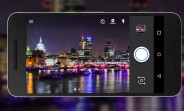 Google has pushed out a new update to its Camera app that bumps the version to 4.4. Among the key changes the update brings along, is the Selfie Flash feature that's aimed at improving your low-light selfies.
To access the functionality while taking a selfie, just make sure the Flash option is set to automatic or on. That's it. Now when you capture the image, the app will produce a little extra light, simulating flash.
It's worth mentioning that you may observe a yellowish-brown color light covering the entire screen after you tab the click icon and before your captured image shows…