Nokia 2 in for review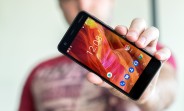 The Nokia 2 is here and enters the line for review. It packs modest specs in a modest package – 5-inch LCD, 1GB of RAM, a Snapdragon 212 chipset – but comes at an attractive price €99/$99. So who is it for? And what does it offer in exchange for that attractive price?
The Nokia 2 is for the buyer that needs the cheapest smartphone, but also wants good battery life. Traditionally, low-end phones had pretty poor endurance, but HMD aims to change that.
Our review will include a detailed battery test of the Nokia 2 but the specs sheet is promising. Couple a 4,100 with a low-res 5-inch…