Now you can initiate a Duo call right from Allo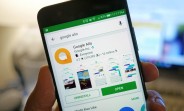 Google first announced Allo and Duo at the same time last year at Google I/O, but Duo was the first app to actually make it to the public. Allo took another month or two before hitting the Play Store.
Strangely, there was no kind of integration between Duo and Allo, Google launched them as two completely separate applications. Today's update to Allo allows you to start a Duo call directly from the Allo recipient screen.
We didn't see the update appear on our device's Play Store just yet, so the update it likely rolling out gradually.With added functionalities like chat backup,…