Oculus Rift Core 2.0 beta now rolling out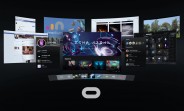 Oculus has announced that it has begun rolling out the Rift Core 2.0 beta to all users on the public test channel.
Announced back in October, Rift Core 2.0 is, according to Oculus, the next chapter for Rift. It features three main components, an overhauled Home interface, a redesigned Oculus desktop app and Dash.
The Home space has been thoroughly redesigned, with the ability to customize it. Users can choose and rearrange the items in their Home space to their liking and fill it with interactive objects and decorative collectibles. Home is unique to every user and users can share…