OnePlus 5 ad confirms June 22 launch date, Amazon exclusivity in India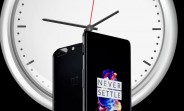 The OnePlus 5 is almost here – to be unveiled on June 20 and go on sale June 22. A leaked video ad from India confirms the sales date as well as Amazon exclusivity.
Unfortunately, the ad ends before revealing what everyone wants to know – the price. Rumored to start at $480, the 5 will be the most expensive OnePlus yet. It does offer the best Android chipset with a whopping 8GB of RAM and (as the ad points out) a cool dual camera. Perhaps even a 4,000mAh battery (the ad is mum on this one and it doesn't align with the CEO's promise of thinness).
The OnePlus 5 should arrive in China…