Oppo F5 launch markets officially confirmed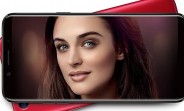 We already know the Oppo F5 is coming later this month, and so far it was all but confirmed that the Philippines will be among the first to get the phone. Now, the Chinese company has officially confirmed the launch markets for the device.
The handset will be available in the following Asian countries: India, Indonesia, Malaysia, Myanmar, the Philippines, Thailand and Vietnam.
It's not clear whether this is the final list of launch markets. It could be that these markets are part of the initial launch wave, and the company will expand the availability based on the response the…