Qualcomm announces X24 (2 Gbps) and X50 (5 Gbps) modems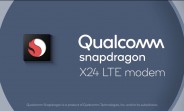 Last week a report from Qualcomm stated that nearly 50 phone manufacturers and carriers are working with the San Diego towards commercializing 5G mobile devices by 2019. Today a step towards this direction was made with the unveiling of Snapdragon X24 – the first 7 nm process chipset that can support up to 2 Gbps LTE speeds.
The promised speeds are nearly twice as high as the predecessor, the Snapdragon X20, embedded into the Snapdragon 845. Qualcomm confirms that the first phones with the new modem will arrive in H1 2019.
The X24 supports "up to 7x carrier aggregation on…