Red HTC U11 to be available soon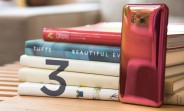 The HTC U11 launched in the US less than a couple of weeks ago, and is currently available through the company's official online store as well as some third-party retailers and carriers. Available color options include silver, black, and blue.
Now, it looks like a new color option – Red – will be available in the country soon.
We've heard you and your wait is almost over. #HTCU11 pic.twitter.com/jj7ATMcS9r— HTC USA (@HTCUSA) June 18, 2017
A quick look at HTC USA's Twitter timeline reveals the company has been running a countdown since late last week, teasing the new model along…