Samsung Galaxy Note9 won't have an under-display fingerprint sensor, new rumor says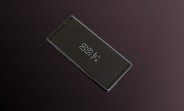 Last October a report came out saying that Samsung's Galaxy Note9, scheduled to launch this fall, would be the company's first smartphone to come with a fingerprint sensor embedded in the display.
Today though a new rumor from Samsung's home country of Korea claims that won't be the case. The project that was supposed to bring this technology to the Note9 has been stopped recently, and the decision was made to go with a rear-mounted fingerprint scanner once again.
A number of suppliers have been working on the under-display sensors for Samsung for the past two years, but the technology…