Samsung guidance points to record profits in Q3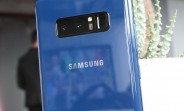 Three months ago Samsung posted record-breaking finacial results; now the Korean company is heading to an even more successful quarter. The preliminary guidance shows sales around KRW61-63 trillion ($55 billion) and the operating profit is expected to be around KRW14.5 trillion ($12.87 billion).
Samsung said they expected a similar outcome back in July. One of the driving forces is the deal with Apple and the shipments of OLED panels for the iPhone X.
The estimates for Q3 are higher than the Q2 2017 results when sales amounted for KRW61 trillion ($54.7 billion), while the operating…