Samsung introduces Gear S3 Golf Edition in South Korea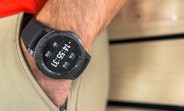 When playing golf, caddies can be crucial to your success. But now Samsung aims to provide a viable replacement for them by releasing the Gear S3 Golf Edition smartwatch.
The watch is a collaboration between the Korean company and Golfzon Co., a South Korean developer of indoor golf simulators. The Gear S3 Golf Edition has the Smart Caddie app pre-installed. Its database has information of over 60,000 golf courses around the globe.
The Smart Caddie also provides real-time location and geographical features of the actual course, including undulations. The watch doesn't have any…