Weekly poll results: fingerprint readers below the screen is what you want in 2018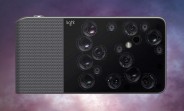 Sometimes it's the simple things in life – why complicate things with 3D facial scanning when the fingerprint reader does an excellent job already. Especially if that reader is in a convenient place, say under the screen.
That's the feature that excites most of our readers, it got 38% of the vote in last week's poll. That will soon be a reality, vivo promises to put out a phone in early 2018. We put our finger on it and found that while it's not the fastest reader around it was average – impressive enough for first-generation tech.
Surprisingly, not many people are looking forward to…